---
UAF and Native Movement collaborate to train Indigenous storytellers
---
Film Premiere at the Morris Thompson Visitor Center and on KUAC-TV as part of the Alaska Federation of Natives public events in Fairbanks, Alaska.
Presentation and public discussion with Film Director, Maya Salganek; Director of the Native Arts Center, Da-ka-xeen Mehner; and Carver and Tradition Bearer, Kathleen Carlo-Kendall.
---
Published on Jul 19, 2019
July 19, 2019 – Correspondent Antonia Gonzales talks with producer Maya Salganek about a new PBS KIDS series about a 10-year-old Alaska Native girl, called "Molly of Denali." The show weaves together literacy skills and Native values. It's the first nationally distributed children's television series to feature a Native American lead character. Salganek was born and raised in Santa Fe.
Episode 1303
---
---
Producer with Santa Fe roots working on PBS animated series _ Local News _ santafenewmexican.com
---
Albuquerque, NM. July 9, 2019. Hosted by Katie Stone.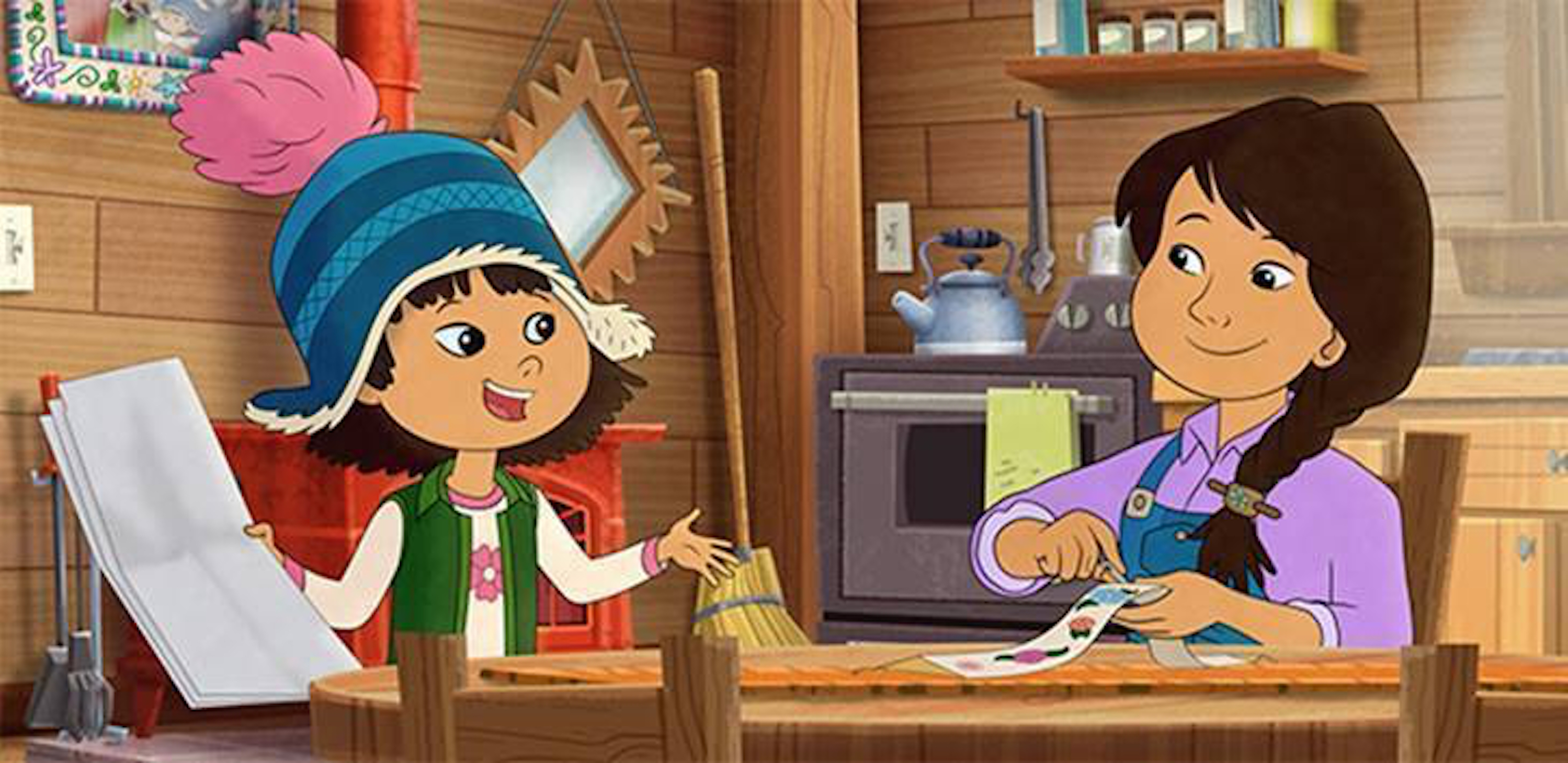 We talk with Maya Salganek, a producer at the groundbreaking PBS Kids show, Molly of Denali, along with her son Kéet, one of the children in the series. The animated TV program promotes early childhood literacy and multicultural diversity and is the first PBS's animated series starring a Native American character, where every indigenous character is voiced by an indigenous actor, and Native people are working in all aspects of the production and writing. Molly of Denali premiers on PBS stations around the nation on July 15, 2019.
The Children's Hour is free for public radio stations nationwide.
---
ADRIAN GOMEZ /ALBUQUERQUE JOURNAL ARTS AND ENTERTAINMENT EDITOR
Wednesday, July 10th, 2019 at 11:45pm
---
Pasatiempo magazine, Santa Fe New Mexican.
February 23, 2018. Retrieved from: https://www.santafenewmexican.com/pasatiempo/art/unbound-art-native-visions-of-appropriation/article_1d5a865b-9708-5e39-b1fc-f55df897828c.html
Unbound art_ Native visions of appropriation _ Art _ santafenewmexican.com
---
Fairbanks Daily Newsminer. Matt Buxton Updated Nov 7, 2016
---
Regan, Kevin. (2015, February 21). KTOO Public Media. Retrieved from http://www.ktoo.org/2015/02/21/filmmakers-fear-industry-stagnation-sen-stoltzes-tax-repeal/
---
Sorrentino, Scott. "On Location: ALASKA". Produced By May-June 2014: 72-76.
---
(Chausse, Amy. (2012, January 31.) "Film Tax Incentive program speaks to Fairbanks Chamber of Commerce". CBS News 13. News broadcast, Fairbanks, Alaska.
---
Hollenhorst, John. (2011, November 15). "Absence of Arctic ice affecting weather, global warming". KSL
Television/ksl.com. News broadcast, Salt Lake City, Utah. Archive retrieved from:
http://www.ksl.com/?nid=148&sid=18105863&title=absence-of-arctic-ice-affecting-weather-global-warming
---
Shields, Matt. (2011, July 17). "Alaskaland, the Movie". 49th Films Blog . Retrieved from
http://49thfilms.blogspot.com/2011/07/alaskaland-movie.html
---
Demer, Lisa. (2011, February 15). "Legislature considers extending tax credits for Filmmakers".
Anchorage Daily News. Retrieved from: http://www.adn.com/2011/02/15/1704920/legislature-considers-extending.html
---
Toman, Daniel (2011, February 8). "Cameras could start rolling for new Film Major". University of Alaska
Fairbanks Sun Star.  Retrieved from : http://www.uafsunstar.com/?p=3188
---
Christensen Scott (2011, February 10). "Film schooled". Anchorage Press.  Retrieved from:
http://www.anchoragepress.com/news/article_606badf7-1a3d-53cc-8bd8-38c8f31312e0.html
---
"'Whale' of an impact: Estimate credits 1,300 jobs, $16.5 million to film". 2011.
Anchorage Economic Development Corporation . 2011. "'Whale' of an impact: Estimate credits 1,300 jobs, $16.5 million to film".
Retrieved from: http://www.aedcweb.com/component/content/article/1/478-whale-of-an-impact-estimatecredits-1300-jobs-165-million-to-film.html
---
"U.S. Proposes to Categorize Ringed and Bearded Seals as 'Threatened'". Featured video. (2010, December 5).
Sundt, Nick. (2010, December 5). "U.S. Proposes to Categorize Ringed and Bearded Seals as 'Threatened'". World Wildlife Foundation Climate Blog.  Featured video. Retrieved from: http://www.wwfblogs.org/climate/content/ringed-andbearded-seals-threatened3dec2010
---
"Film Fest shows 'Different Angles of Life' (2010, December 14)
Schrock, Jeremia. (2010, December 14) "Film Fest shows 'Different Angles of Life'". University of Alaska
Fairbanks Sun Star. Retrieved from: http://www.uafsunstar.com/?p=2397#4
---